Four Paws Pet Aid Medicated Anti-Itch Spray
$13.22 (-32%)
Four Paws Pet Aid Medicated Anti-Itch Spray Wholesale
– Gentle formula doesn't sting
– For use on dogs and cats over 6 weeks of age
Compare
Description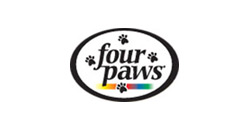 If you use a spray on your pet that stings, they'll start avoiding you when they see the bottle. Four Paws Pet Aid Medicated Anti-Itch Spray provides immediate relief from pain and itching caused by flea bites and allergic dermatitis without the sting. It contains no steroids and won't stain your furniture or carpets. You can treat your pets' hot spots without pain using Four Paws Pet Aid Medicated Anti-Itch Spray.
Ingredients
See back of bottle for complete list of ingredients.
Side Effects & Warnings
Keep out of reach of children. For external use only.
Directions
Avoiding eyes, spray 6-8 inches from affected area. Use as often as needed for continued relief. Safe to use on all skin areas. Do not use on puppies or kittens under 6 weeks of age.
Care Instructions
Store at room temperature.
Manufacturer Information
Four Paws is manufactured by Four Paws Pet Products